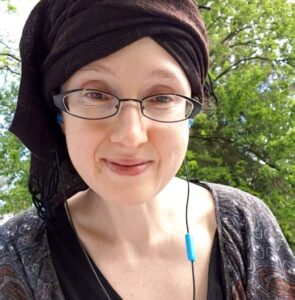 Blessings (writes Max),
I am an Autistic, neurodivergent, queer/trans, non-binary woman of Middle Eastern, Welsh, and multi-ethnic descent, with traumatically erased cultural heritage, institutional and intersectionalized violence, and severe disability multi-generationally affecting myself and my family.
Through my own severe disabilities and with other Survivors of Severity, I strive to build collaborative structures of support for people who are otherwise excluded from community resources.
The members of our communities are surviving compounded intersections (https://Intuitive.pub/intersections) that need recognition in human rights and disability rights communities, especially regarding support through trauma, neuroatypical communications, recovery through dreaming and creativity, and the value of restoring media privilege, production toolsets, and social authority to survivors of extreme hardship. 
Drawing together caring community resources to build more effective relationships, even survivors of the worst intersections can recover their function, identity, skill sets, economic participation, and sense of personhood very swiftly.
This has been saving our lives, even though --- overwhelmingly --- we haven't been able to reach any able-bodied or professional network assistance.
We need many more people to know about what we are doing.
With a more interconnected community, not only with those who are severely disabled but with those who honor and learn from severely disabled people, we will save many more lives.
Thank you for uplifting the crucial stories, emergent wisdom, lived experiences, and life-saving work of disabled people. 
Max (Megan Elizabeth) Morris
Social media handles:
--- https://t.me/s/IntuitivePublicRadio
--- https://t.me/MaxMorris, https://t.me/s/MaxMoRadio
--- https://anchor.fm/Intuitive + distributed other anchor.fm podcasts
--- https://facebook.com/IntuitivePublicRadio
--- https://fb.me/megmorris23, https://fb.me/mxmaxmettamo
--- https://twitter.com/IntuitivePublic, https://twitter.com/Mofromthegut
Email: max@intuitive.pub