ADA31 Lead On - CELEBRIZE! Celebrate & Recognize Non-Apparent Disabilities!
View the archive of event here
Theme: Non-Apparent Disabilities & Stigma Busting, a 90-minute virtual festival to celebrate, educate and take ownership of the experience people with non-apparent disabilities face.
From the Production Team of: ADA30 Lead On: Celebration of Disability Arts, Culture, Education & Pride - 2021 Audience Honors Shorty Award Winner with over 112,000 impressions; National Disability Employment Awareness Month (NDEAM) in October 2020; Black Future Month: Legacy, Present & Afro-Futurism in March 2021.
25% of Americans have disabilities; 2% authentic disability representation; 1% disabled writers in the Writers Room - 100% cast, crew and social media teams of ADA Lead On productions identify as disabled or Deaf. Tari Hartman Squire and Danny Woodburn, producers; Anita Cameron, Consulting Producer for ADA31 Lead On and as social media coordinator.
Thanks to our initial investors - ComcastNBCUniversal Diversity, Equity & Inclusion, Facebook, Sony Pictures Entertainment and ViacomCBS.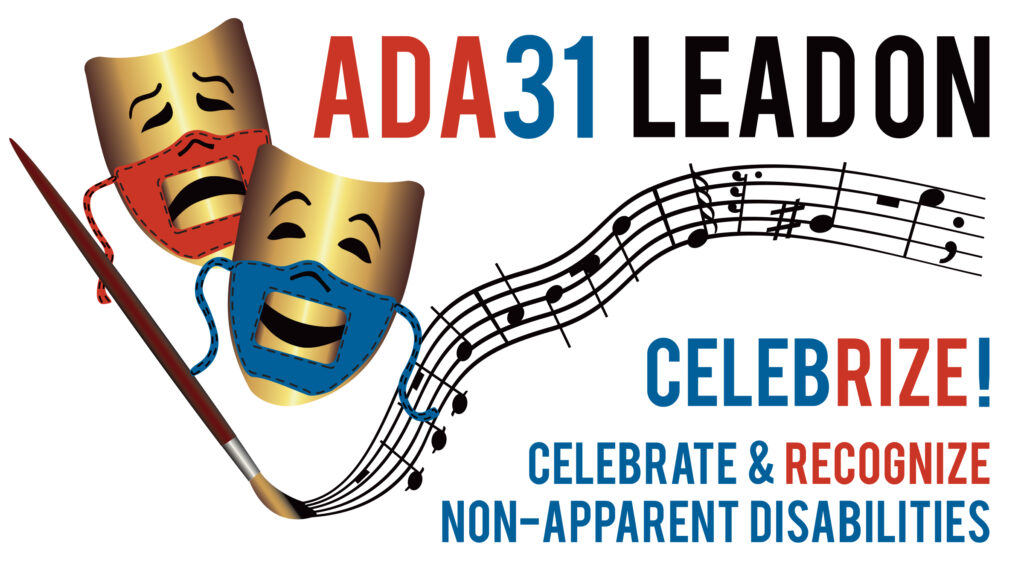 Image description: Two gold comedy and tragedy masks with red and blue accessible (lip-readable) PPE face masks show the smile of comedy and the frown of tragedy, next to a paintbrush that is creating musical staff. The words "ADA31 Lead On" appear prominently at the top. At the bottom, the text continues, "Celebrize! Celebrate & Recognize Non-Apparent Disabilities." Thank you Dan Wilkins for this great logo.
"It is beautiful to see amazingly talented people with disabilities: visible and invisible, climbing up in the media industry. What's more impressive is our community being an ongoing inspiration for others to follow. My motto is, give others the motivation to turn dreams into reality."
-Trelanda R. Lowe "Tree", Post Production Supervisor and Editor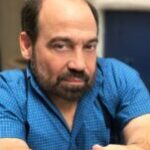 "I think of the ADA as an incredible foundation of needed change for people with disability. That foundation is being built upon every year it is in existence by our community. The strength of it supports our progress, our perseverance, and the power of our united voice."
-Danny Woodburn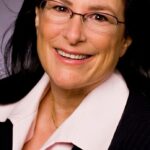 "26% of the population – 2% of media – 100% cast and crew of ADA30 Lead On and NDEAM. Media professionals with disabilities own this narrative – In front of and behind the camera. A real gamechanger."
-Tari Hartman Squire
Click any of the buttons below to view shows from the
ADA Lead On Productions series
ADA30 Lead On: Celebration of Disability Art, Culture, Education & Pride
National Disability Employment Awareness Month (NDEAM)
Black Future Month: Legacy, Present, and Afro-Futurism (BFM)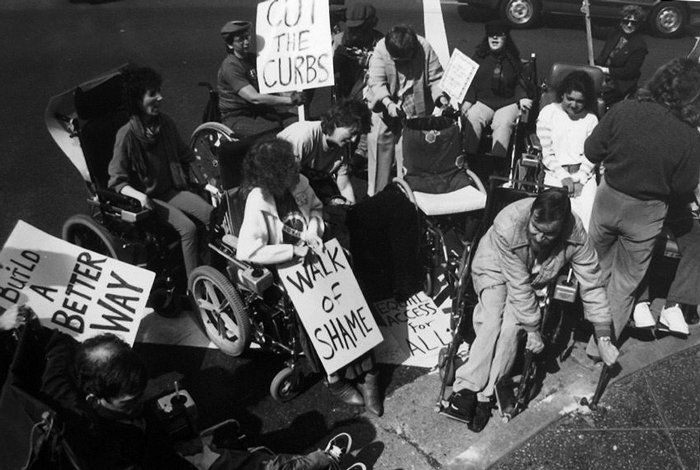 Image description: Photo by Tom Olin, The Olin Collection group of disabled activists using wheelchairs are watching another activist take a sledge hammer to the curb at the Hollywood Walk of Fame to create a curb cut.
,

Other sponsors include
Comcast NBCUniversal; Telemundo; Easterseals Disability Film Challenge; EIN SOF Communications; The Foundation for Global Sports Development & Sidewinder Films; Kessler Foundation; Meta (Facebook); Mitsubishi Electric America Foundation; PolicyWorks; Sony Pictures; TransCen/Mid-Atlantic ADA Center; and Wells Fargo.
Black Hollywood Education & Resource Center (BHERC); Be Influential Films; Blaq Gurl Fya; Bourgeois Magazine LA; Bridge Multimedia; Bus Door; Dreaming Big on a Swing Entertainment; EIN SOF Communications; Exceptional Minds; Fashionably Tardy; Fun4The Disabled; Interpret This!; KripHop Nation; Lights! Camera! Access!; michaels.adams.; Michigan Disability Rights Coalition; Mulberry Tree Group; SignWorld Studios; SoulFul Media Works; 3 Play Media; Visionaries of the Creative Arts (VOCA); and Woman of Her Word.
Lead On: The Life and Legacy of Justin Dart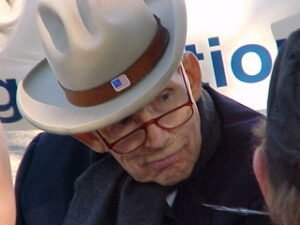 "I call for solidarity among all who love justice, all who love life, to create a revolution that will empower every single human being to govern his or her life, to govern the society and to be fully productive of life quality for self and for all."

Disability Talent Resources